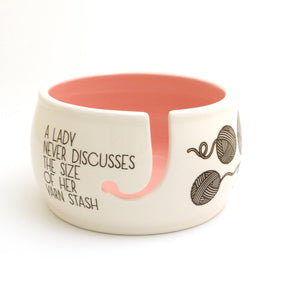 Stashaholic, Yarn Bowl
Handmade ceramic yarn bowl reads, "A lady never discusses the size of her yarn stash."
Perfect for the yarnaholic- and by yarnaholic I mean textile curator- who loves to knit or crochet.

Inside is pastel pink. This yarn bowl measures 6.25 inches across by 3.5 inches tall and has a J yarn release. 
Handmade in NJ by a small, woman owned business.