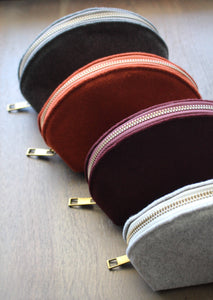 Woolen Notions Pouch
Made from soft, wool-blend felt, this notions pouch has it all! Inside is a perfect stretchy pocket to hold a matching Hand-Stitched Woolen Tape Measure, a magnetic mini pocket to securely hold a pair of Mini Embroidery Scissors, and a ribbon loop to attach your favorite set of stitch markers!
Dimensions: 6 1/2" wide, 4 1/2" tall with 3" bottom gusset.