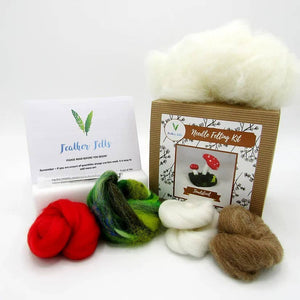 Toadstool - Needle Felting Kit
This kit includes a beautiful range of colors to represent the forest floor! The Toadstool's model stands about 12cm tall and the finished base is similar in width.
This is a simple kit for a beginner or a lovely addition to a more experienced needle felter collection, containing detailed, easy to follow instructions with photographs guiding you through each stage.
Each box contains:
Merino Wool
Core Wool
Corriedale Wool
Assorted Wools (Base)
3 Different Sized Needles
Needle Case
Detailed 4 Page A5 Booklet Instructions with photos of each stage
Felting Foam