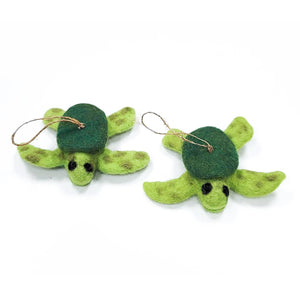 Tiny Turtles Eco Ornaments/Fresheners
Meet the Tiny Turtles! A cute reminder of why it's important to reduce our plastic use, this set of 2 sea turtle eco ornaments symbolizes the patience, resilience, and wisdom of our oceans.
Hang them on your holiday tree, in your car, or use them with essential oils to freshen your drawers all year long! Friendsheep eco ornaments are handmade by shaping organic wool with soap, water and hand pressure.
The delicately hand sewn details give our cute characters their unique personality. The Tiny Turtles are part of our #plasticfree4thesea line of products that directly benefits ocean conservation. 
Measuring approximately 3"x3". Fair trade, handmade from 100% organic, cruelty free certified New Zealand wool. Not intended for children.