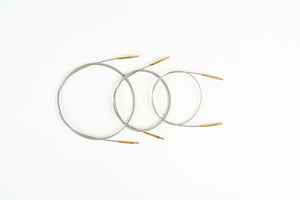 Swivel Interchangeable Cords, Lantern Moon
Lantern Moon Swivel cords are combined with their IC needles to create circulars of differing lengths, or to create a "flex" needle for those who like single points but don't want to carry the weight of their project in their wrists.
Interchangeable cords fit on Tunisian Interchangeable crochet hooks.
These cords have a 360 degree swivel to avoid kinking, are made of stainless steel, lay flat, and uncoil easily. Gold connectors to match the needles.
Cord length selection ranges from 16" to 40",