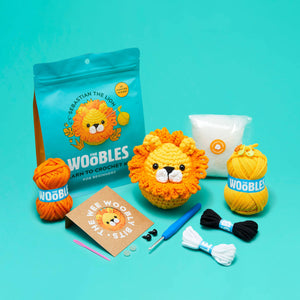 Sebastian the Lion Beginner Crochet Kit
MEET SEBASTIAN THE LION Though he may have a reputation for being fierce, Sebastian the Lion is really just an overgrown kitty whose woobly cheeks and irresistible cuddles will capture your heart. That glorious mane might seem a bit tricky, but don't worry—our super helpful instructions will soon have you whipping out chain stitches like a pro and roaring with pride.
Just imagine him curling up on your couch or batting at a sunbeam, and we think you'll agree that the extra effort is absolutely worth it.
WHAT'S INCLUDED - Step-by-step video tutorials - Pre-started crochet piece, so you can get right into practicing the main crochet stitch - Unlimited help over e-mail, plus virtual crochet office hours - Yellow, orange, white, and black acrylic yarn - 4mm ergonomic crochet hook - Plastic eyes - Stuffing - Tapestry needle - Stitch marker - Drawstring bag to carry everything - Pattern as a PDF download SKILL LEVEL Beginner+