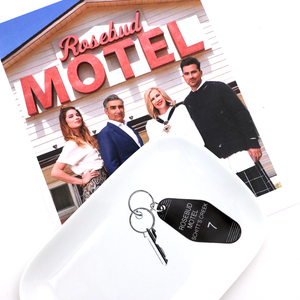 Schitts Creek Key Plate, Rosebud Motel Keychain
Fans of Schitt's Creek will enjoy this tribute to the show. This key plate features the image of a keychain for the famous room 7 at the Rosebud Motel, where David, Moira, Johnny and Alexis spent such happy times.
Handmade from porcelain and kiln fired to over 1900 degrees it can be used for keys, change etc- but is also food safe. This plate measures 7 x 5 inches and is rectangular in shape.