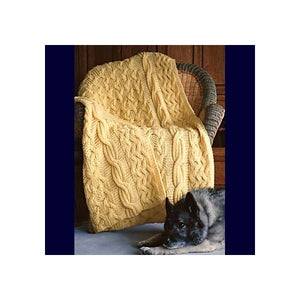 Reversibly Cabled Afghan Pattern
Design by Lily M. Chin.
Knit this thick, warm afghan on large needles in Lily's signature reversible cables.
When it's not wrapped snugly around you, leave it tossed over the back of a chair or couch without ever worrying that the so-called wrong side is exposed. There is no wrong side! Use any part of the panel patterns for smaller projects like a stole or a scarf or even a serape!
Heavy worsted weight yarn.
Check with Sweet Pea Fiber about special ordering yarn in order to make the afghan of your vision.