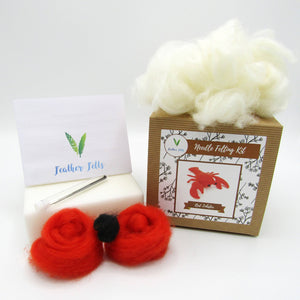 Red Lobster - Needle Felting Kit
Red Lobster is an ideal kit for an intermediate needle felter. He is about 20cm long from claw tip to tail and 14cm at his widest.
This is a complete kit containing detailed, easy to follow instructions with photographs guiding you through each stage. Included in this kit is a template to help with proportions.
Each box contains:
Core Wool
Corriedale Wool
Carded Sliver Wool
3 Different Sized Needles
Needle Case
Detailed 8 Page A5 Booklet Instructions with photos of each stage
Lobster Shape Template Detailed PDF Instructions with photos of each stage
Felting Foam