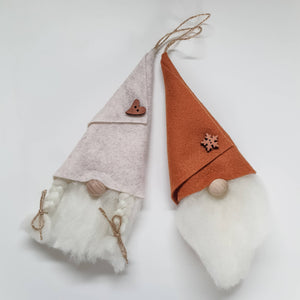 Pair of Scandi Christmas Gonks Ornament Kit
These Scandi Christmas Gonk hanging ornaments have bags of personality!  Enjoy some festive crafting in the build up to Christmas making a pair of traditional gonks in your chosen colorways. 
These little cuties are incredibly fun to make; I can't explain it, they are just fun fun fun.
Measuring between 9 to 10 inches in height they look strikingly festive as a tree ornament or hanging on a door handle. 
Acrylic felt
Unspun acrylic fiber
Wood balls
Jute twine
What you'll need to make them: - Scissors - fast drying glue such as super glue or hot glue.