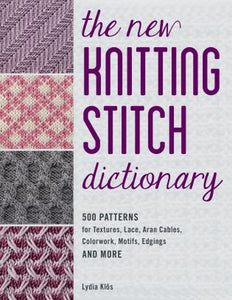 New Knitting Stitch Dictionary
The New Knitting Stitch Dictionary features 500 innovative knitting stitch patterns. The stitches are divided into sections by type of stitch: texture, lace, cables, flower and leaf patterns, bobbles, lifted stitches,
Fair Isle, intarsia, borders, and more. This is a reference stitch dictionary that any knitter would love to have on their craft shelf and will refer to for inspiration and ideas.