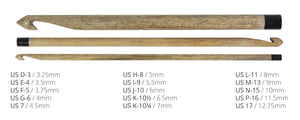 Lykke Driftwood Crochet Hooks
Made of birch, these smooth hooks are durable and light, and are true pleasure to work with!
6 inches in length each hook is labeled on its metal base with US and European sizing.
Named after the Norwegian word for happiness, LYKKE Crafts combine high quality materials and thoughtful design to produce beautiful, durable, happy-making  crochet hooks.
These hooks are made in Nepal by hand. LYKKE is happy and proud to support the growth and development of the local economy in Nepal. Revenue from the sale of LYKKE Crafts products also serves to Make Happy in that community through varied benefit programs for the workers, their children, and the community.