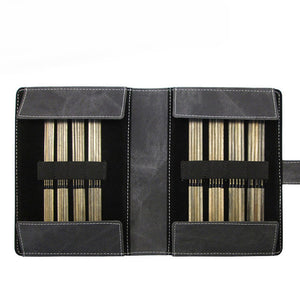 Lykke Double Pointed Set
Named after the Norwegian word for happiness, LYKKE Crafts combine high quality materials and thoughtful design to produce beautiful, durable, happy-making knitting needles.
Made of strong birch wood, the LYKKE needles are very smooth and light. With their warm character, the needles are easy on the hands and the eyes - a true pleasure to work with.
Each DPN has the needle size engraved on the central metal band, the joint of which is extremely smooth, so you don't notice the yarn passing over it. The tips taper beautifully to a good, sharp point.
The large set includes five needles in each size: 4mm, 4.5mm, 5mm, 5.5mm, 6mm, 6.5mm, 8mm, 9mm.
They come packaged in a compact, sturdy case with a grey denim effect.