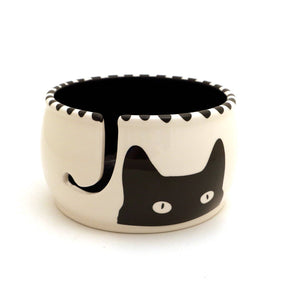 Kitty Ears Ceramic, Yarn Bowl
This handmade ceramic yarn bowl makes a great gift for a cat loving person who knits or crochets! Featuring a cat who is all ears.
The interior is black, exterior glossy white with a black cat. Measures 6.25 W x 3.5 H. Glazed a glossy white on the exterior with a turquoise blue interior. Features a wool release hook. 
Lenny Mud items are handmade in NJ by a small, women owned business.