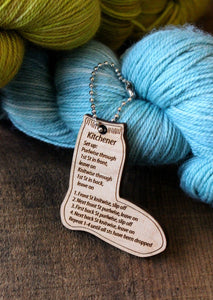 Kitchener Sock Fobs
Do you need help remembering how to work the kitchener stitch on the toe of a sock? Well this handy little tool is just what they need!
A little chain will attach this wooden sock to a knitting bag or keychain so it's always easy to find! Handmade in Rhode Island by Katy Westcott of Katrinkles. Silver chain included! 
Fob Dimensions: 2" x 2"