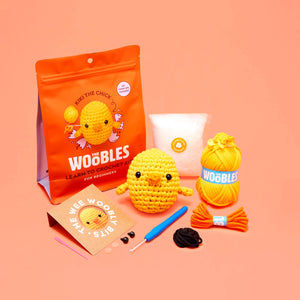 Kiki the Chick Beginner Crochet Kit
MEET KIKI THE CHICK Think of this wee Weeble as the minimalist of the bunch. Not only is she the smallest, but she's also the least cluttered, with every one of her parts and colors sparking joy.
It's like she was tailor-made for beginners. As in, "I've never held a crochet hook before" beginners. Or even, "Wait, you crochet with a hook?" beginners. But with this super helpful kit, you'll have an adorable chick nestling in the palm of your hand in no time.
WHAT'S INCLUDED
- Step-by-step video tutorials
- Pre-started crochet piece, so you can get right into practicing the main crochet stitch
- Unlimited help over e-mail, plus virtual crochet office hours
- Yellow and orange acrylic yarn
- 4mm ergonomic crochet hook
- Plastic eyes - Stuffing
- Tapestry needle - Stitch marker
- Drawstring bag to carry everything
- Pattern as a PDF download SKILL LEVEL Beginner