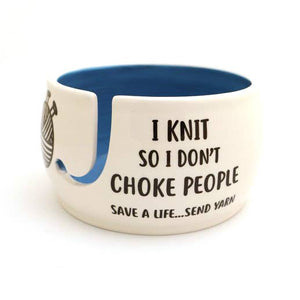 I Knit So Don't Choke People, Yarn Bowl
Reads: I knit so I don't choke people. Save a life...send yarn.
Some warm and fuzzy anger management for the person who wields those sharp needles.
This large yarn bowl measures 6.25 inches wide and 3.5 inches high and features a wool release hook. Glazed a glossy white on the exterior with a turquoise blue interior. 
Lenny Mud items are handmade in NJ by a small, woman owned business.