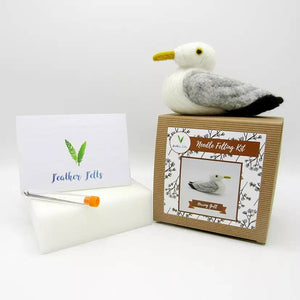 Herring Gull - Needle Felting Kit
Herring Gull is an ideal kit for a beginner needle felter. Herring gulls are a common sight on the British coast. Made using snowy white merino wool for the body and carded Corriedale wool for the wings. When finished, the Gull is 18cm long from beak to wing tip and 9cm tall.
This beautifully packaged kit contains everything you need to make the Herring Gull including the wool, felting needles, sponge, and detailed instructions with photographs showing each stage. 
Each box contains:
Core Wool
Merino Wool
Corriedale Wool
Carded Sliver Wool
3 Different Sized Needles
Needle Case
Detailed 8 Page A5 Booklet Instructions with photos of each stage
Felting Foam