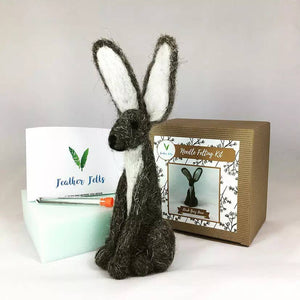 Grey Hare - Needle Felting Kit
Dark Grey Hare is an ideal kit, for a beginner / intermediate needle felter. He is tall, 18cm – 27cm high, depending on how you choose to position his ears, when finished.
This is a complete kit containing detailed, easy to follow instructions with photographs guiding you through each stage.
Each box contains:
British & Merino Wool
3 Different Sized Needles
Needle Case
Detailed 8 Page A5 Booklet Instructions with photos of each stage
Felting Foam