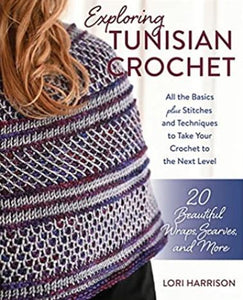 Exploring Tunisian Crochet, Lori Harrison
Your one-stop Tunisian crochet resource is here!  Autographed copies!
Whether you are completely new to Tunisian crochet or you already love it and are ready to move beyond the basic stitches, Exploring Tunisian Crochet has the step-by-step instructions you need to master any Tunisian crochet project.
Photo tutorials for basic stitches and advanced stitches (for both left- and right-handed crocheters) get you started on the road to success. Complete your education with expert tips and techniques.
Once you've practiced the stitches, you'll be ready to crochet any of the 20 stunning patterns for shawls, scarves, hats, and more. You'll be amazed at the versatility of Tunisian fabrics you can make with the variety of stitches in this book, from lacy shawls with beautiful drape to stretchy hats and mittens and color work shawls and scarves. The advanced crochet stitches you'll learn open a whole new world of possibilities!