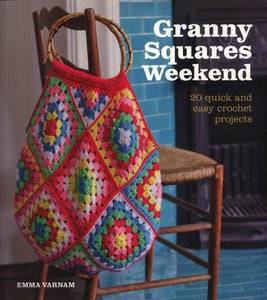 Granny Squares Weekend: 20 quick and easy crochet projects
Emma Varnam 

"I cannot think of anything more delightful than a weekend spent curling up on the sofa with my yarn and hook, crocheting something cozy." Emma Varnam

As the title suggests, all the patterns in the book are small enough to finish within a weekend.

With 22 pages showcasing full page pattern images, the projects in this book are styled in cozy rooms while the accessories patterns alternate between being photographed on models or mannequins and dress forms.

If you need an emergency craft fix, then this book has the answer! Armed with a crochet hook and some yarn you can rustle up these gorgeous projects in next to no time. Granny squares are a simple and fun way to get creative when time is short, while offering a fashionable way to use up your yarn stash. From hats and coasters to cute toys and decorations this book is packed with inspiring projects that can be finished in a couple of days. As well as iconic granny square patterns, this book explores the scope of the technique, using it as an edging for blankets and in chic single-colour projects.

Like Granny Squares Home, Emma's Granny Squares Weekend is a treat for the eyes. The beautifully styled pictures of crochet filled homes make you want to grab your hook and cuddle up with some yarn. If you like comfort crochet, "mindless" crochet, mindful crochet, hygge, or boho crochet, you are sure to find some great projects in this book.