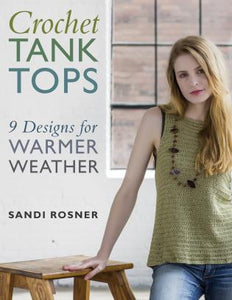 Crochet Tank Tops: 9 Designs for Beginners
Crocheted fashion isn't just for cold weather with the 9 refreshing designs in this book, perfect on their own or as layers. You'll find a wide range of styles worked in warm-weather fibers (cotton, linen) that are fun to crochet and easy to wear.
These versatile designs work equally well with skinny or relaxed-fit jeans, trousers, shorts, or skirts, whether you're dressing up or going out to play.