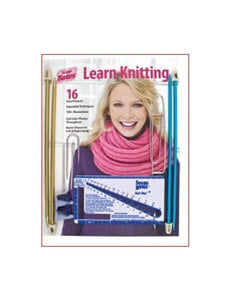 Learn Knitting-Starter Kit
Each kit contains

2 pair of Susan Bates Silvalume 10in knitting needles (US7/4.5mm and US10.5/6mm),
1 cable needle,
2 yarn needles,
1 stitch holder,
5 yarn bobs,
2 regular and 2 bulky point protectors, and
1 Knit Check.

An instruction book with simple instructions and clear diagrams make learning easy. The book also has more than thirty fun projects to make and left hand instructions.