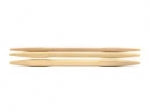 Brittany Cable Needles
Brittany cable needles are made of sustainably harvested Birch wood which is strong, stable, resistant to warping, and provides an exceptionally smooth finish.  
The warmth and smoothness of hardwood nurtures sensitive fingers and provides natural strength and consistency for a lasting product. Enjoy the patina of finish and elegance of design found only in Brittany's finely crafted hardwood knitting needles.