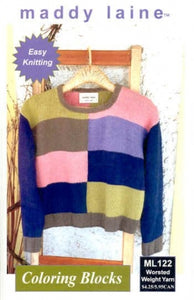 Coloring Blocks, by Maddy Laine
This is a great stash busting knitting pattern that just requires you to fill in the blocks with color and create your own masterpiece.
This easy-to-knit women's sweater features k5, p2 ribbing, set-in sleeves, and go-anywhere style.
Womens sizes XS through XL. Easy. Worsted weight.