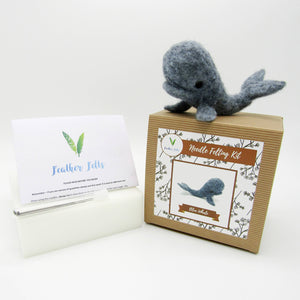 Blue Whale - Needle Felting Kit
Blue Whale is an ideal kit, for a beginner needle felter. Who doesn't love a whale? Living on the coast there is always a tiny chance of spotting one.
Here is Blue Whale; a simple design and an excellent kit for a new needle felter to try. He is 6.5 inches long from the tip of his tail fins to his large head. His coat is made from a beautiful mottled grey/blue Corriedale wool.
This is a complete kit containing detailed, easy to follow instructions with photographs guiding you through each stage. Each box contains:
Core Wool
Corriedale Wool
Merino Wool
3 Different Sized Needles
Needle Case
Detailed 4 Page A5 Booklet Instructions with photos of each stage