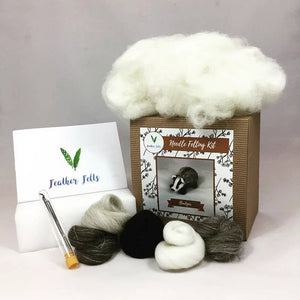 Badger - Needle Felting Kit
Badger is an ideal kit for a beginner/intermediate needle felter. He is a shy woodland creature, also nocturnal, so it's always a delight to spot one in its natural habitat. He is 15cm long and 7.5cm tall when complete.
This delightful kit contains everything you need to make this beautiful Badger, no wires needed! This is a complete kit containing detailed, easy to follow instructions with photographs guiding you through each stage.
Each box contains:
Merino Wool
Herdwick Wool
Swaledale Wool
Core Wool
Glass Eyes
3 Different Sized Needles
Needle Case
Detailed 8 Page A5 Booklet Instructions with photos of each stage
Felting Foam