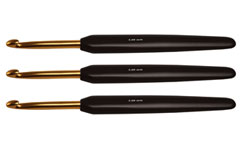 Aluminum Gold Crochet Hook with Soft Feel Handle
An extraordinary product with an ergonomically designed handle that encourages hours of comfortable crocheting. Smooth handle & gentle grip is ideal for crocheters of all types,  even those with arthritis.
Perfectly sized hook comes in an attractive gold anodized finish, easy to see perfect stitches with any color yarn. Precision engineering insures accurate gauge. The crocheters favorite tool!
Designed by crochet experts for crochet Artists!