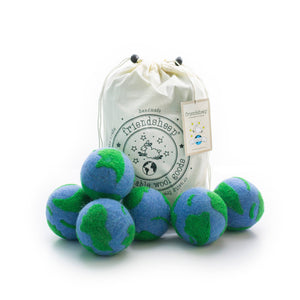 Mama Earth Eco Dryer Balls
Show your love for our Mama: ditch dryer sheets and liquid fabric softeners. Say no to the toxins and plastic that come with them. Because every choice matters, also in the laundry room! For every limited edition Mama Earth set sold, 6 trees are planted towards permanent reforestation. So every time you'll look at your Mama Earth balls you'll know there's a tree growing in their name.
Reusable for over 1000 loads, our Mama Earth eco dryer balls naturally soften your laundry, reduce wrinkles, static, and help you reduce drying time by up to 40%. Save time, energy, and money while eco dryer balls are an all-natural and organic fabric softener handmade from 100% premium New Zealand wool. 
Pack of 6 dryer balls in a handmade cotton drawstring bag, with user manual.