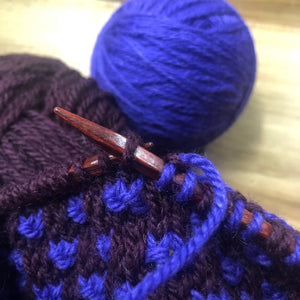 Next Step Knitting - 201 / Works in Progress * Second Sunday Monthly (3pm to 6pm)
Know how to knit the basics and want to learn next steps? Want to practice picking up dropped stitches? Learn a new technique? 
Bring your works-in-progress or a new project that you are launching to this Sunday afternoon workshop.  We will troubleshoot your questions; work through pattern issues; figure out fixes; whatever is on your mind!

This is a relaxed workshop format that should provide you with the knowledge you need to move your project to the next step. 
Materials
Bring a work in progress or a pattern that you wish to launch

We have shop yarn and needles available if you just want to practice techniques
 ~~~~~~~~~~~~~~~~~~~~~~~~~~~~~~~~~~~~~~~~~~~~~~~~~~~~~~~
Illness protocol: Please do not attend class if you are not feeling well or have been exposed to COVID. Masks are welcome, yet not required.
Refund policy: Refunds or rescheduling are not possible for no-shows or cancellations with less than 48 hours' notice.