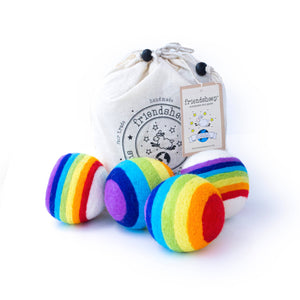 Disco Rollers Eco Dryer Balls - Pride Edition
Replace chemically loaded dryer sheets and liquid softeners with a set of reusable Pride special edition Disco Rollers rainbow eco dryer balls.
Handmade, fair trade, compostable, plastic free, and fun, they will naturally soften your clothes and help you reduce drying time!
A set of 4, handmade needle felted rainbow balls, in a reusable black and white hand printed, hand made cotton storage bag.